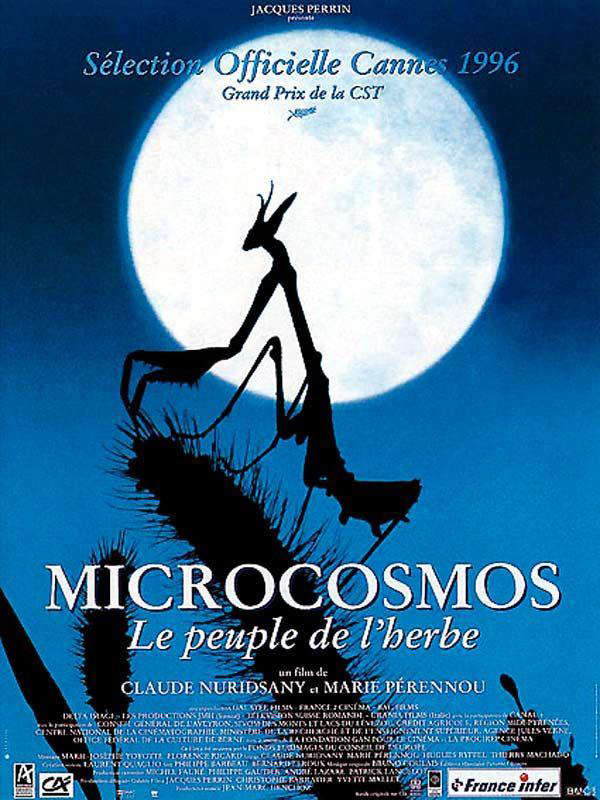 GENRE : Wildlife documentary
 DIRECTOR OF PHOTOGRAPHY : Claude Nuridsany, Marie Pérennou, Hugues Ryffel, Thierry Machado
EDITOR : Marie-Josèphe Yoyotte, Florence Ricard

SOUND : Philippe Barbeau, Bernard Leroux, Laurent Quaglio
RELEASE DATE NOVEMBER 20th 1996

Enter this unknown world for 24 hours and leave on an adventure of a wholly different scale. In this universe, the hands of time turn more quickly… An hour for a day, a day for a season, and a season for a lifetime. A magical movie starring all of the heroes of the Microcosmos.
A FILM BY  : Claude Nuridsany and Marie Pérennou
SCREENPLAY  : Claude Nuridsany et Marie Pérennou
COMMENTAIRE VERSION FRANÇAISE : Jacques Perrin
AWARD AND NOMINATIONS: 5 César 1997: Best Producer, Best Photography, Best Sound, Best Editing and Best Original Music.
3 other Cesar nominations
Cannes Film Festival 1996: Grand Prix of the Higher Technical Commission